Thread Options
Mark as New

Mark as Read

Bookmark

Subscribe

Email to a Friend
Asa Larsson's latest crime novel, Until Thy Wrath Be Past, will thrill fans of her acclaimed Rebecka Martinsson series. And its title should thrill fans of Early Modern English. What, exactly, is up with thee and thine, yours and mine?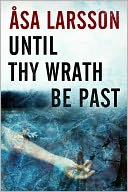 Until Thy Wrath Be Past follows two female protagonists, Prosecutor Rebecka Martinsson and Police Inspector Anna-Maria Mella, both recovering from violent choices they made in their pasts, as they work to discover the killer of a 17-year-old girl whose body floats out of a river when the Swedish spring breaks up months-old ice.
The two women break open decades-old scars and secrets dating back to Sweden's conflicted World War II past in the course of their investigation, which becomes an exploration of pain, conflict, and healing, both national and personal. Larsson writes of emotionally wrenching scenes and thoughts with clarity and directness, never hesitating to reveal the deep dark places in the human heart.
Her title comes from a verse in the Book of Job, one of the Bible's more puzzling sections. "Thy" comes from the King James Bible translation, and although the Book of Job itself may present a theological conundrum, the use of "thee," "thy," and "thine" need not.
"Thou" is the nominative form, like "he," "I," and "she"; "thee" is the objective form, like "me," and "him"; "thine" is the possessive form, like "his," "hers," and "mine."
In Early English, "thou" forms were singular, and "ye" and "you" forms were plural. With the influence of the Norman French invaders, who used plural forms for the king and nobles as a form of respect--think of the "imperial we"--"thou" forms became associated with intimate, close, equals and "you" forms became associated with respect and formal address. This is familiar to anyone who studied Romance languages such as Spanish, which uses "tu" for family, friends, and equals or servants and "usted" for people one doesn't know well, to indicate respect.
So, basically, the singular "thou" would up being for intimates and the plural "you" for superiors. And, eventually, "thou" forms gradually dropped out of use. And then came the King James Bible! The translators used "thou" forms, which were fading, and by using them in their translation gave them a whole new connotation of religious formality and august authority.
Whew! Just remember, when we see "thee" and "thy" and think they mean serious formality, that's not how they started out. And when we see "ye," as in Ye Olde Sweet Shoppe, remember "ye" is "you," not "the." You old sweet shop, you!
Want to keep up with my reviews, and all of Barnes & Noble's exclusive reviews, author interviews, videos, promotions, and more? Please follow us on Twitter: @BNBuzz!
Ellen Scordato has 25 years' book publishing experience as an editor, copy editor, proofreader, and managing editor. She's now a partner in The Stonesong Press, a nonfiction book producer and agency. In addition to her work at Stonesong, Ellen has taught grammar, punctuation, and style at the New School for more than 12 years in the English Language Studies department and taught English as a Second Language at Cabrini Immigrant Services.
Permalink