Thread Options
Mark as New

Mark as Read

Bookmark

Subscribe

Email to a Friend
Thomas Friedman's latest title,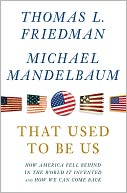 That Used to Be Us: How America Fell Behind in the World It Invented and How We Can Come Back
(
Nook
) (
hardcover
) covers the Pulitzer Prize–winning author's usual wide-ranging territory, this time concentrating on four challenges facing the USA right now: IT (information technology), energy use, globalization, and deficits.
I'll leave those thought-provoking topics to Friedman and Mandelbaum and instead look at the syntax of his title.
Friedman's writing has come in for high praise, winning three Pulitzer Prizes. It's come in for some fairly barbed criticism as well, in a 2005
New York Press
article by current
Rolling Stone
columnist Matt Taibbi. But even Taibbi excoriated only Friedman's mixed metaphors and figures of speech, not his syntax per se. Complex syntax isn't wrong or right on its own, of course, but it's certainly fun to unwind and examine.
So what about Friedman's latest title? Let's look at a few interesting things: "Used to be" and those two long "how" clauses.
First, "used to be". If someone asked you "What part of speech is that?" could you answer? Now you can! "Used to" is so similar to a modal auxiliary verb that it is sometimes classed among them. (True modal auxillaries include "may" and "might," "can" and "could.") Perhaps best classified as a helping verb, "used to" is a construction that appears before other verbs for a very specific purpose, to indicate an action that habitually occurred in the past but no longer occurs, or a fact that is no longer true.
It never changes form, no matter what verb it's applied to, and it's considered colloquial, not formal, usage. The preferred spelling is "used to" rather than "use to"; "use to" reproduces dialect or very colloquial speech.
In this case, looks like Friedman is using "used to" to reference a fact that is no longer true. "That" (whatever "that" is) is no longer "us."
Now for "How America Fell Behind in the World It Invented." Here's a lovely long clause--two clauses, in fact. (Remember that a clause has a subject and predicate, but cannot stand on its own as a sentence.) Introduced by the adverb "how," the word "America" is the subject and "Fell Behind in the World" is the predicate. "Fell Behind" is a verb with its particle, and "in the World" is a prepositional phrase indicating place. "It created" is actually another clause, a noun clause modifying "World." The relative pronoun "that" is missing--which is perfectly fine--relating the clause to the noun it modifies. "it" is the subject of the relative noun clause, a pronoun with the antecedent "America," and "Invented" is its verb.
After that, "How We Can Come Back" is a piece of cake. Once again "How" is the adverb. "We" is the subject, and "Can Come Back" is the predicate. Breaking down teh predicate further, "Can" is the modal auxillary, and "Come Back" is the verb and its particle.
Whew! Although I would not agree completely with Taibbi that "The usual ratio of Friedman criticism is 2:1, i.e., two human words to make sense of each single word of Friedmanese," untangling the syntax does take time. Time perhaps better spent reading the book and contemplating its contents. Whether or not one agrees that Friedman is prone to present middlebrow sentiments as astonishing insights or not, the topics he covers are thought-provoking.
Do you have a favorite long title or bit of syntax you'd like to untangle? Post it here! I'll do my best with it.
Want to keep up with my reviews, and all of Barnes & Noble's exclusive reviews, author interviews, videos, promotions, and more? Please follow us on Twitter: @BNBuzz!
Ellen Scordato has 25 years' book publishing experience as an editor, copy editor, proofreader, and managing editor. She's now a partner in The Stonesong Press, a nonfiction book producer and agency. In addition to her work at Stonesong, Ellen has taught grammar, punctuation, and style at the New School for more than 12 years in the English Language Studies department and taught English as a Second Language at Cabrini Immigrant Services.

Permalink