Thread Options
Mark as New

Mark as Read

Bookmark

Subscribe

Email to a Friend

Charlie Ledley and Ben Hockett returned form Las Vegas on January 30, 2007, convinced that the entire financial system had lost its mind. "I said to my mother, 'I think we might be facing something like the end of democratic capitalism..." To Charlie and Ben... it seemed perfectly clear that Wall Street was propping up the price of these CDOs so that they might either dump losses on unsuspecting customers or make a last few billion dollars from a corrupt market. In either case, they were squeezing and selling the juice from oranges that were undeniably rotten. By late March, 2007, "We were pretty sure one of two things was true," said Charlie. "Either the game was totally rigged, or we had gone totally f***ing crazy. The fraud was so obvious that it seemed to us it had implications for democracy. We actually got scared." (p. 160-6)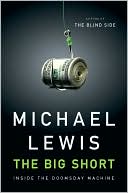 After every major financial crisis, economic experts emerge blinking into the light, searching for napkin jottings that prove they saw it coming. Few people paid for their business acumen will admit they had no idea what would happen. Precious fewer not only saw it coming but put their money where their mouths were. In The Big Short, which documents the explosion of the credit market in 2007, author Michael Lewis follows men who sunk their entire savings, reputations, and business models into the belief that everyone who bought into a trillion-dollar bubble was crooked, ignorant, or delusional.
As with his other books, Lewis doesn't try to recreate a whole system through a comprehensive linear narrative. This book provides a fun feature introduction, not the all-seeing academic text. Other books will come along to tell the A-to-Z story of the credit bubble of the 2000s. Instead, he follows an engaging group of roughly half a dozen people and lets them take the story to the relevant moments in the crisis, personalizing these economic instruments and behaviors with featured characters who appeal to our sense of humor and curiosity.

Lewis fills in the expository gaps as needed, but otherwise we experience the insanity as it happened, to people who were initially as bewildered as we are. It's a very reassuring structure. In effect, Lewis is saying, "Don't be spooked by this stuff: it's natural to be confused and overwhelmed by it. Look at all these smart people who felt the same way." The crux, here, is not that we were all confused because we didn't get some abstruse and inaccessible truth of finance. The "big truth" was that everyone who claimed to be "getting it" all along was either lying to you, to themselves, or both.

The Big Short introduces us to a unique and endearing group. There's Michael Burry, who is convinced he has no social skills. Bored of being a medical doctor, he quits his job to follow his true passion, evaluating bonds and running portfolios, in solitude. What he did—what unlocked the credit bubble for him years before anyone else stumbled onto it—was actually read the full financial disclosure statements of people selling bonds. This was the financial-sector's shockingly simple due-diligence equivalent of checking statements made in the press by getting a library card. It made his customers millions, as his fund outperformed the economy again and again.

There's Steve Eisman, an investor so chronically at odds with other human beings that, when he made a fortune and realized he should be donating to charity, he cut checks to groups helping Hasidic Jews escape their religion. Eisman started out in life as a Republican, but by the end of the book he's a firebrand, begging for a thunder of regulation and prosecution, insisting that everyone responsible be clapped in irons and forgotten about. His disdain for liars and disregard for any pretense of toleration for them verges on the giddily misanthropic. Give him a limp and a drug problem, and he could be the financial equivalent of Dr. Gregory House.

Then there are Charlie Leadley and Ben Hockett, two young guys who essentially created a garage start-up investment group. They're shrewd and wonky and enthusiastic enough about what they do that they make a lot of money betting against conventional wisdom. They more than anyone else represent the audience's perspective in this mess. They're smart enough to know something isn't right, but they aren't willing to believe things are this profoundly bad. They still believe that when things don't add up, their math must be wrong. But after getting others to check their work, their response, as above, is so mild as to question whether it will unravel the fabric of the United States of America.


What's interesting about this stuff is just how easy it is to be angry and polemical about it, and just how neatly Lewis avoids that kind of rhetoric. He's made a career writing books challenging the validity of conventional wisdom and profiling insiders whose actions subvert the status quo and even impeach it, yet very few people think of Lewis as a muckraker. Just going from his books, he seems socially liberal and maybe a Democrat, but he made millions working for Salomon Brothers as a trader and might be a Republican. He wrote a book criticizing his experiences there, but then he moved on to write about baseball, football, and political campaigns, willing to let the issue go rather than foment a crusade. He's a southern boy who went to a historically conservative school, at Princeton, but he lives in the Bay Area. You know what? I give up.

Lewis seems charmingly enigmatic, and part of this no doubt comes from his willingness to put the full-throated outrage found in his books squarely within quotation marks. The Big Short has some fully italicized sentences, but they're ones of shock. When the angry social denunciations come, they're spoken by someone who is not the author.

This is very smart of Lewis. The book is offensive, not for how it's written or for f-bombs or crass characters, but because the phenomenon it necessarily has to describe gives offense. If you wanted to dog ear every page that has an upsetting fact on it, you could probably just fold the top corner of the whole book over. Yet, in spite — or maybe because — of that, it's a totally engrossing read.

Parts of it are mordantly funny; parts are just plain funny; parts are humane and sweet; parts are galling. Ultimately, it uncovers and diagnoses a crisis of American finance through a series of indelible portraits of half a dozen people. They all had the courage to bet reputations and savings on the disease inside the system, long before The End came. And all of them made a lot of money, because almost nobody was interested in hearing what they had to say.
Permalink