Thread Options
Mark as New

Mark as Read

Bookmark

Subscribe

Email to a Friend

With the global economy tanking and many investments (real estate, stocks, etc.) not panning or paying out, where does that leave the collectible book market? Well, just recently a British first edition of
Harry Potter and the Philosopher's Stone
(published in the United States as
Harry Potter and the Sorcerer's Stone
) was bought for $19,120.00. Granted this was a limited edition -- soft cover copy that included an illustrated card signed by Rowling -- but that's still a lot of money. Taking into account that the book was originally published in 1997 and retailed at $24.99, in 12 years, it's appreciated $19095.01 above the original investment!
On the flip side of that, if you purchased James Patterson's February release,
Run for Your Life
for $27.99, you're in the hole for $13.49, as merely two months later you can buy used copies for $14.50.
Of course, many factors play into a book's worth. There's supply & demand, print run sizes, condition of the book in question, if it's signed or not, etc. Another enormous factor, that is easily overlooked, is timing. Bluntly, if an author dies, their books immediately go up in value because obviously there isn't going to be anymore, so strike when the iron's hot, or more accurately, when the body is cold. Media timing also plays its part. A first edition of Richard Yates's
Revolutionary Road
is currently fetching anywhere between $1000.00 and $3,000.00. We're talking about a book that at one point was out of print and virtually forgotten.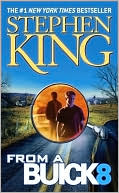 Back in 2002, Stephen King announced that
From a Buick 8
was to be his last book. I was fortunate enough to obtain a signed copy with a promotional flyer, which I quickly sold -- before he wrote another book -- for upwards of $1000.00. Today, that book would fetch about $800.00; a minor depreciation, but a loss nonetheless.

Like the stock market, book collecting is a crap shoot, but it's a gamble that can pay big dividends. What recent books may one day prove profitable? Your guess is as good as mine.
Wondering what one of your books is worth? Feel free to PM me through My Profile Page.
Message Edited by PaulH on
04-29-2009
03:25 PM
Permalink