Thread Options
Mark as New

Mark as Read

Bookmark

Subscribe

Email to a Friend

Christopher Hitchens, an acerbic wit and keen commentator on religion, society, and politics, died Thursday Dec 14. This avowed atheist's books, especially his recent memoir,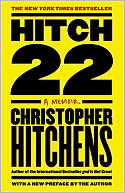 Hitch-22, can make clever holiday gifts for those who appreciate expert, idiosyncratic prose in the service of iconclasm.
R. Crumb, illustrator of the drug-drenched 60s and 70s, is celebrated in R. Crumb The Complete Record Cover Collection collecting his exuberant album covers and more; it makes a lovely present for fans of psychedelic graphics. What's the link? Both men thoroughly relished a lavish use of their respective languages, visual and verbal.
Hitchens was not everyone's cup of tea. The British writer, who became an American citizen in 2007, never lost his plummy upper-class British accent. His polemics against religious belief outraged many but his dazzling verbal virtuousity made him a desirable TV discussion partner on shows both left- and right-leaning. He was a contrarian, who's support for the Iraq war alienated and confused many of his left-wing friends and admirers.
Still, his prose was a thing of beauty, polished, balanced, syntactically sound and full of lovely echoes, parallels, and correspondences. Fred Landis quoted this example on quora.com:
On the fatwah against his friend Salman Rushdie: "the Archbishop of Canterbury, the Vatican, and the Sephardic Chief Rabbi of Israel all issued statements to the effect that the main problem was not the offer of pay for the murder of a writer, but the offense of blasphemy...his Japanese translator was to be murdered, his Italian translator stabbed, and his Norwegian publisher shot three times and left for dead." Hitch 22 A Memoir
Look at that structure: There's the triple subject of the archbishop, the Vatican, and the rabbi, the triple independent clauses of "translator . . . to be murdered, translator stabbed, and publisher shot" and delightfully and serendiptiously, he was to be shot "three times," making a third iteration of three. Ah structure, ah syntax. I will miss you, Mr. Hitchens, for your style as much as your content.
Form and function come into play in R. Crumb's work on album covers as well. The underground comics artist, whose thick expressive lines, densely drawn style, and eye-popping colors defined the graphic language of a generation, loved music. A dedicated collector of 1920s and 30s soul, jazz, and blues records, he jumped at the chance to illustrate the cover of Janis Joplin's 1968 album Cheap Thrills. His distinctive, memorable evocation of the psychedelic experience made the cover an instant icon and helped him become one of the most beloved artists in that genre, creating 12 x 12" masterpieces that matched or exceeded the music inside in sheer power and craziness.
So if you have lovers of the spare, monochromatic, and pale, the pared-down Zen aesthetic, Hitch and Crumb might not be the gifts for them. But if you are looking for gifts one who may appreciate a celebration of exuberance and abundance, the excesses of verbal and visual expression, give these titles a try.
Want to keep up with my reviews and all of Barnes & Noble's exclusive reviews, author interviews, videos, promotions, and more? Please follow us on Twitter: @BNBuzz!
Ellen Scordato has 25 years' book publishing experience as an editor, copy editor, proofreader, and managing editor. She's now a partner in The Stonesong Press, a nonfiction book producer and agency. In addition to her work at Stonesong, Ellen has taught grammar, punctuation, and style at the New School for more than 12 years in the English Language Studies department and taught English as a Second Language at Cabrini Immigrant Services and the College of Mount Saint Vincent Language Institute.
Permalink