Thread Options
Mark as New

Mark as Read

Bookmark

Subscribe

Email to a Friend

British playwright Rachel Joyce's first novel, The Unlikely Pilgrimage of Harold Fry, seems an unlikely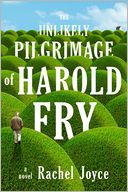 sort of book to jump across the Atlantic. The story of a retired brewery salesman, his wife, absent son, and a note from a dying friend he hasn't seen for years unfolds in a world marked by a particularly British kind of reticence about feelings, a very specifically English way of living together in polite, yet sometimes bitter chill. Harold receives a note from a former coworker now in hospice, and the 60-plus retiree writes her a note; somehow, he then finds himself setting off to walk six hundred miles from his home in Knightsbridge to Berwick-upon-Tweed, in his light jacket and yachting shoes, revealing much about Great Britain and the English personality along the way.
American readers are embracing the novel, possibly because its arc of revelation, a physical and psychological journey to a sort of enlightenment, is so American and possibly because the prose is so effortless. Although one never forgets one is reading a British novel, I was never brought up short by glaring Britishisms, Commonwealth-style spelling or punctuation, or unfamiliar vocabulary. The book itself went on a bit of a pilgrimage, and it has emerged splendidly.
Readers of books published in Great Britain and those published in North America know many of the classic "Britishisms." Differences in spelling leap to the eye: There is the well-known "ou" for "o" in "colour," "flavour, and the like as well as the strange "aluminium." Even more eagle-eyed readers will notice the way British, or Commonwealth English, reverses the use of quotation marks: Direct discourse is enclosed in only single quotes ' '; quoted discourse inside direct discourse gets double quotes ". Examples make this clearer: in American, it's "I heard him shout 'Stop!' as I hopped into the well." In Commonwealth punctuation it would be 'I heard him shout "Stop!" as I hopped into the well.' People who own the first Lynne Truss book, Eats, Shoots & Leaves, which is so much concerned with punctuation errors and "greengrocers' apostrophes" might puzzle over the way quotation marks are used: That book's publisher decided not to Americanize them.
In fact, there are vocabulary differences as well. Look at that greengrocer's apostrophe again; when's the last time a New Yorker or a Califorinian or a Middle American referred to the fruit man or the produce guy as a "greengrocer"? And in Britain there are "jumpers" instead of sweaters, "boots" instead of car trunks, "lifts" instead of elevators, and "rubbish tips" instead of garbage dumps.
Commonwealth English uses the mass noun "jury" as plural: "The jury are in," while our juries are singular. It's a rather different language altogether, and publishers who work with British imports must be alert to how much, if at all, they want to change the language when they publish a book in the United States. Do they change only the spellings? Maybe the punctuation as well? Do they go whole hog and change the vocabulary and turn metrics into Imperial (meters to yards)?
Making these decisions depends on the book. Cookbooks do change ingredients, or explain North American equivalents to "aubergines" and "courgettes." Before the Internet, I once had to ask a the only Brit around--a slender, chain-smoking young man named Ian who didn't seem to spend much time in the kitchen--what an English cookbook author meant by "Chinese leaves." They turned out to be Napa cabbage or bok choy--or pak choi. It was a challenge. And in cookbooks, often measurements are given in both the original metric and in Imperial conversion.
Fiction presents an altogether different challenge. Rachel Joyce's prose is quiet and lovely; who would mess it up with wanton substitution. In genre mystery series, it used to be a different story; I made a nice freelance living in the late 80s "Americanizing" inexpensive British mystery imports for mass market publishers, marking up the unbound pages by hand, changing jumpers, boots, tips, and more, switching every " to ' and making sure that Mr. and Mrs. and Dr. had their periods; in British printing, those abbreviations did not.
The pilgrimage of British fiction to American readers is not difficult, but it's filled with byways of lesser and greater interest, much like Harold Fry's, whose story I heartily recommend.
Want to keep up with my reviews and all of Barnes & Noble's exclusive reviews, author interviews, videos, promotions, and more? Please follow us on Twitter: @BNBuzz!
Ellen Scordato has 25 years' book publishing experience as an editor, copy editor, proofreader, and managing editor. She's now a partner in The Stonesong Press, a nonfiction book producer and agency. In addition to her work at Stonesong, Ellen has taught grammar, punctuation, and style at the New School for more than 12 years in the English Language Studies department and taught English as a Second Language at Cabrini Immigrant Services and the College of Mount Saint Vincent Language Institute.
Permalink