Thread Options
Mark as New

Mark as Read

Bookmark

Subscribe

Email to a Friend

Two adverbs title Diane Keaton's memoir, looking to the past and present. Then Again is lovely, wry, self-effacing, devoted, raw in parts and careful in others. As much about her mother Dorothy's life and Keaton's love for her as about Keaton, this chronicle looks at what it was like then as Keaton was growing up, and what happened then and again in her life as an adult: relationships with powerful men and the recreation of a family. Adverbs! How appropriately they place us in time and space.
Keaton sprang to prominence as an actress in filmmaker Woody Allen's 1977 Annie Hall , playing the neurotic, irresistible girlfriend of a neurotic, irresistible comedian (Woody), mirroring their real-life relationship. She went on to star in Looking for Mr. Goodbar (1977), Reds (1981), and The First Wives Club (1996), among other films, as well as being active as a photographer and real estate developer.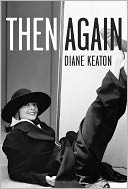 Then Again
was written after the death of Keaton's beloved mother Diane. As her mother succumbed to Alzheimer's, Keaton read Diane's journals and discovered whole new facets of her life and a deeper understanding of the woman who meant so much to her. Keaton gets to the "juicy" parts in her memoir, too: her relationships with powerful and famous men in Hollywood. After
Annie Hall
, what happened then?
Then she dated Woody Allen, then Warren Beatty, then Al Pacino. Again and again, she was linked with powerful men, but never married. Then, as her mother sank deeper into Alzheimer's, Keaton found a family again, adopting two children after she was fifty years old . One of the more intriguing women still active in Hollywood and an object of interest for her romances as well as her quiet achievements, Keaton reveals perhaps more than she intends in
Then Again
. A British reviewer in the
Guardian
lambasted her for self-effacement; the
New York Times
was enthusiastic about the book's achievement, praising how Keaton was able to lucidly weave together intensefly personal and public stories of family and career.
Of course, the title made me think about adverbs; those words that modify our verbs, our actions (as well as our adjectives--but that's another post). Adverbs are often divided and categorized by grammarians who love to divide and categorize into four main types: adverbs of time, place, frequency, and manner. When, where, how often, how--all the elements of describing a life well-lived. So Keaton's choice of adverbs to title and frame her memoir seems as appropriate as her menswear in Annie Hall; not quite what is is expected, but a perfect fit nonetheless.
Want to keep up with my reviews and all of Barnes & Noble's exclusive reviews, author interviews, videos, promotions, and more? Please follow us on Twitter: @BNBuzz!
Ellen Scordato has 25 years' book publishing experience as an editor, copy editor, proofreader, and managing editor. She's now a partner in The Stonesong Press, a nonfiction book producer and agency. In addition to her work at Stonesong, Ellen has taught grammar, punctuation, and style at the New School for more than 12 years in the English Language Studies department and taught English as a Second Language at Cabrini Immigrant Services and the College of Mount Saint Vincent Language Institute.
Permalink