Thread Options
Mark as New

Mark as Read

Bookmark

Subscribe

Email to a Friend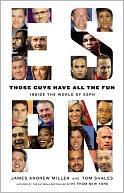 Those Guys Have All the Fun
tells fascinating tales about the egos, battles, triumphs, genius, hilarity, and obsessions that fuel ESPN, possibly the world's greatest source of sports news. But what about the fun we word nerds and grammar geeks have with the name of the network itself? Is it an initialism or an acronym? And what's the difference, anyway?
IMHO, from JPEGs to scuba, from RBIs to the FBI, from LOLCats to laser teeth whitening, online and in print our prose is awash with abbreviations, acronyms, and initialisms. But which are which? Their numbers have grown so exponentially, it seems, in recent years that it's hard to keep track.
Many dictionaries reserve "acronym" for words made up of initials that are pronounced as words. (The suffix "nym" indicates "word"--think of synonym, antonym, homonym, and so on.) Word such as laser, Light Amplification by Stimulated Emission of Radiation, or NATO, North American Treaty Organization, are made of the first initials of a series of words but are pronounced themselves as words (lay-zir, nay-toe), not letter by letter.
Words that are pronounced letter by letter are often called initilalisms. These include FBI, LOL, and DNA. Abbreviations are just shortened forms of words or phrases, such as etc. for et cetera, re: for regarding, et al. (and others).
Some terms float between initialism and acronym: think of the baseball statistic "runs batted in," which can be pronounced as RBI (are-bee-eye) or "ribbie," depending on the sportcaster and the venue.
And what of ESPN? It originally stood for Entertainment and Sports Programming Network. But its awards, the ESPYs, are pronounced as a word, and the Y isn't an initial that stands for anything. So ESPN was originally an initialism, pure and simple. But now it is its own entity, more than a network, more than a brand. And a whole lot of fun.
What's your favorite initialism or acronym? What's the most bewildering one you've found?
Want to keep up with my reviews, and all of Barnes & Noble's exclusive reviews, authors interviews, videos, promotions, and more? Please follow us on Twitter! @BNBuzz 
Ellen Scordato has 25 years' book publishing experience as an editor, copy editor, proofreader, and managing editor. She's now a partner in The Stonesong Press, a nonfiction book producer and literary agency. In addition to her work at Stonesong, Ellen has taught grammar, punctuation, and style at the New School for more than 12 years in the English Language Studies department and taught English as a Second Language at Cabrini Immigrant Services.

Permalink