Thread Options
Mark as New

Mark as Read

Bookmark

Subscribe

Email to a Friend

Today we welcome author Valerie Trueblood for an exclusive Q&A.
JD: Your title is incredibly thought-provoking. Could you tell us about it?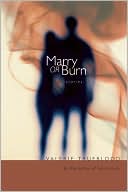 VT: One day the title just came to me--Marry or Burn! I was going through stories for the book, and that seemed ornery enough, large enough to cover anything a group of stories with marriage in them could have to say. It's from the letter of Paul to the Corinthians, in which he tells his followers that the best course is to "contain," that is to be celibate, as he is himself. However, if they can't manage that, better to marry than to burn. Irony usually doesn't have much of a place in my stories, but the ironies of that statement just go flying off from it all directions. It's a snobbish order, but oddly mysterious. If you Google the title, instead of the book you often get people talking about the Bible, about how to deal with lust, etc. Really grappling with questions of how to live.


JD: Many people have questions about novellas. How do you decide a piece is a novella vs. a short story or a novel?

VT: The last story in the book, "Beloved, You Looked into Space," I sometimes call a novella, because it's fifty pages long and it got free of some of the constraints of stories. But there's no reason not to say it's a long story. It's certainly not a mini-novel. I don't ever see the novel as a primary form and the short story, whether 500 words or 50 pages, as a spin-off. The tale, the story, is where fiction began.

The differences between short story and novel seem to me profound. The novel has one task and the story another. The novel--this is a generalization of course, with the usual exceptions--must be plausible. Verisimilitude is something the American novel still takes pains with, sometimes wearying pains. Whereas the story--quite often what the story is telling is implausible. Yet it must be believable. Thus the details have to work harder than they do in a novel; often in a story they must perform magic. The sentence has to work harder. The reader has to work harder! The reader does have to feel his or her way along the chain of sentences in a way that many novels don't demand, and sometimes double back, in order to experience the tension peculiar to the short story. The tension in a story comes in part from the willingness of the teller to take on unlikelihood, and the submission of the reader to it. Unlikelihood is catnip for the story-writer.


JD: Who are some of your literary inspirations?

VT: Wonderful question. The answer is a lot of writers, not so much influences as loves.

I love the old women. (Now we avoid "old" and say "older." Why is that? "Older" I guess confers some possibility: if you're merely older than some other people, maybe you're still not old.) At any rate I love the work Penelope Fitzgerald did as she aged. The Blue Flower is a work of genius. I love Elizabeth Jolley, Beryl Bainbridge, Mavis Gallant. Shirley Hazzard, M. F. K. Fisher, Nathalie Sarraute. These writers--some of them now gone-- have written excitingly in their late years. Or their later years. They inspire me every day.

Then for inspiration there's James Salter, a master of the short story. His story "Twenty Minutes" works a terrible miracle in eight pages. And David Markson, whose struggles against the novel form are a delight. My publisher, I'm honored to say, publishes both.

Life A User's Manual, Perec's great book, shows what stories proliferating by a kind of cell division can do, though he made it impossible for anybody else to get anywhere near the method.

I read everything by Lydia Davis, John Haskell, Deborah Eisenberg, Alice Munro. I look for work by Jeff Vande Zande and Dawn Raffel. A friend just introduced me to Jeanne Heuving's experimental book Incapacity (called poems by some); another led me to Eula Biss's fine The Balloonists (memoir? poem? prose?).

I can't seem to stop answering this question! I'll just mention one more, a book that went very deep when I was young, and still does: Christina Stead's The Man Who Loved Children. You have to approach it warily. Somewhere Don DeLillo called the American realist novel "around-the-house-and-in-the-yard." Well, in Stead's house and yard there were entrances to the Inferno.


JD: What's your writing practice like?

VT: I write, or try to, a good part of every day. I have to because I'm very slow. I fear any plan that hurries things; my editor had great patience. If I had a credo it would probably be "Wait."


JD: An author's job has gotten more public these days. Any thoughts on the book marketing process?

VT: The public side is hard for me. I couldn't really go down the aisle with either of my books. A wonderful stage actor, Megan Cole (who also played Noor in Star Trek the Next Generation!), read a story for me at the launch of Marry or Burn, and she invested it with so much more aliveness than I could have. Where did book launches come from? Have they always existed? Did Kafka do them?

But the people who find my work and like it are dear to me. A letter from someone I knew in school, a blog comment from a stranger: these are more encouraging and fortifying than the commenter could ever imagine.
JD: Thanks so much to Valerie. For more on the craft of writing please check out my book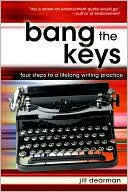 Bang the Keys. Until next week I leave you with a question: where do your titles come from?
Permalink