Thread Options
Mark as New

Mark as Read

Bookmark

Subscribe

Email to a Friend

Only one week until the 2011 Discover Great New Writers Award winner announcement! Six finalists; three fiction and three nonfiction. I haven't read them all, but Alice LaPlante's bestselling mystery Turn of Mind, about a surgeon with Alzheimer's who can't remember whether or not she murdered her neighbor, both a friend and an enemy, is high on my list of favorites.
The title reminded me of turn of phrase and figures of speech. And the idea of the same person being both friend and enemy reminded me of identical words that mean different things--but they are not homonyms. Let's check out that figure of speech!
Last week in this space we looked at homonyms and homophones. This week we'll look at homonymic puns, often found in Shakespeare--and mid-century advertising: Remember the famed Starkist tuna ad: "Sorry, Charlie. StarKist doesn't want tunas with good taste — StarKist wants tunas that taste good." As my friend Barb asked last week, "What do you call it when you pet your pet? or ski on one ski?"
That's a homonymic pun and a perfect example of antanaclasis! Antanaclasis is a rhetorical figure, from the Greek of course, referring to that exact usage--the same word, with different meanings, in the same phrase or sentence. (thanks to M.D.I. for that reminder!)
So what do you call you a friend who's also an enemy? The new coinage "frenemy" had a brief vogue in the last couple of years, but if you really want to read about such a figure in action, I'd highly recommend Alice LaPlante's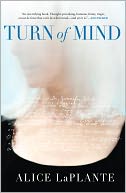 And may the best Discover New Writers candidate win! The announcement is March 7, 2012. I can't wait!
Want to keep up with my reviews and all of Barnes & Noble's exclusive reviews, author interviews, videos, promotions, and more? Please follow us on Twitter: @BNBuzz!
Ellen Scordato has 25 years' book publishing experience as an editor, copy editor, proofreader, and managing editor. She's now a partner in The Stonesong Press, a nonfiction book producer and agency. In addition to her work at Stonesong, Ellen has taught grammar, punctuation, and style at the New School for more than 12 years in the English Language Studies department and taught English as a Second Language at Cabrini Immigrant Services and the College of Mount Saint Vincent Language Institute.

Permalink