Thread Options
Mark as New

Mark as Read

Bookmark

Subscribe

Email to a Friend

Now that Douglas Light's funny and moving novel, East Fifth Bliss has been made into a movie, starring Michael C. Hall ("Dexter"), this writer's writer is finally getting some attention. In addition to getting some big screen street cred, Light also just received some great literary news: his story collection, "Girls in Trouble," has just been selected by Peter Ho Davies for the AWP Grace Paley Prize. It's to be published by the University of Massachusetts in the fall of 2011. Below, my interview with Doug Light:

Jill Dearman: Tell us about how your book, East Fifth Bliss, came into being.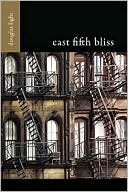 Douglas Light: I was living in a shabby walk-up tenement in the East Village, writing short stories. I had what I thought was a solid concept for a novel, but I was quickly disabused of that idea when I sat down to write it. The novel I ended up with is vastly different than the one I first imagined. I had to do a lot of writing just to figure out what I was writing about. And I had to learn that the delete key was my friend. But over time and a ton of pages, Morris Bliss, the novel's main character, with his flaws and dreams, slowly came into being, as did the plot, setting, and conflict. It was a slow process, but the whole thing finally came together.

JD: You've won some accolades as a short story writer: You're an O. Henry Prizewinner and your work has appeared in the Best American Nonrequired Reading anthology. How is writing a novel different from writing short fiction?

DL: They are two different beasts, for sure. For me, short stories often launch from something I've witnessed or read, something that evokes a sharp emotion of distress or sadness. Something that makes me wonder, "What the hell just happened? Why do I suddenly feel this way?" I then try to put that feeling onto the page, build a story that can vessel that emotion to the reader in a short amount of space.

With the novel, I'm striving for something larger, broader. I'm striving to not only evoke emotion, but to examine and understand a larger question, then present that question to the reader. Which is just a fancy way of saying I'm out to tell a story that lingers on with the reader long after they've finished the novel.

JD: What's your writing practice like? Word on the street is that you are pretty tough and disciplined!

DL: I get a bit restless if I don't write every day. As for my schedule, I wake at four a.m. on weekdays, write until seven-thirty, then begin my regular day. Weekends, I don't wake so early, but I still get three to four hours of writing in.

I've found that once I started viewing writing as a job, as something I had to show up for every day and put my time into, my work improved. The ideas came more easily. That's not to say every day is a great writing day. Most aren't. But it's committing to the act of writing that's important.

JD: What was it like transforming your novel into a screenplay, and then watching actors bring it to life?

DL: I met the director Michael Knowles, who I co-wrote the screenplay with, a few years ago. His feature film "Room 314" had just been released on DVD. East Fifth Bliss had just come out. We swapped, liked each other's work, and decided to adapt my novel into a screenplay. When I wrote the novel, it was a process of building, of developing the characters and scenes. Writing the screenplay, it seemed a process of stripping down.

Getting the movie produced was a chicken and egg scenario: to get the backing to make the film, we needed the talent; to get the talent, we needed the backing. Fortunately, we got the script to Michael C. Hall, who signed on to play Morris Bliss. Everything fell into place after that and we ended up with a stellar cast that includes Peter Fonda, Lucy Liu, and Brie Larson.

It was both exciting and strange to watch the actors take on the characters I've lived with for so long. But they brought a poignancy and humor to the film that was incredible. I couldn't have wished for a better outcome.

JD: Who have been your greatest literary influences and what are you reading these days?

DL: I keep returning to writers like Joan Didion, James Salter, and Joy Williams for inspiration. Their clean, sharp turn of phrase is enviable.

I like keeping my reading mixed. Right now, I'm reading a trashy thriller, a collection of essays on nature, and a Don DeLillo novel.
JD: For more on Doug's work please visit his website, http://www.douglaslight.com. For more on the craft of writing please visit my site, http://www.bangthekeys.com and check out the book, Bang the Keys
Permalink