Thread Options
Mark as New

Mark as Read

Bookmark

Subscribe

Email to a Friend

Much as I would like to, I can't give a full review to Harold Evans's fascinating and instructive autobiography here. But the title made me a bit wistful for vanished times in publishing.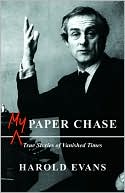 My Paper Chase: True Stories of Vanished Times.
And, I admit, not only in publishing but in grammar, writing style, and usage as well; particularly, I'm wistful for clean writing, free of those wordy tics of expression that crowd our pages now.
Most people who pay attention to grammar and usage know Strunk & White's classic, slim instructional title on good writing, The Elements of Style. Strunk & White, as the book is affectionately—or not—known, is a highly prescriptive book, and not all its prescriptions have to do with grammar. (In fact, some grammarians despair of the pair's rather arbitrary grammar dos and don'ts.) Many of their dictums have to do with what E. B. White perceived as elegance of style—particularly, economy.
For years, apprentice writers and college students have been drilled with one of S&W's maxims: "Omit needless words." And for years, journalists, such as those who worked under the tutelage of Harold Evans and other masters, omitted needless words. Brevity and clarity were hallmarks of good writing. Say the most with the least: efficient and lovely.
Vanished times indeed. In the past two weeks, I have seen or heard "the fact that" more than half a dozen times, and "at this point in time" probably twice as often. "Due to the fact that" springs up everywhere, five weedy words where "because" will do and is meant, amid thickets of prose that seem to not only ignore but mock Strunk & White. "Moving forward" instead of "next"; "at this point in time" instead of "now" or "today"; and, perhaps the most insane instance of needless words, "needless to say." If it is needless to say, don't say it. Don't write it. It's not needed.
Lest I sound like I've suddenly grown Andy Rooney eyebrows, like the resident cranky old man of 60 Minutes, I do realize that in echoing speech and idiomatic patterns of discourse, "moving forward," "needless to say," and "due to the fact that" have their place. But that's the only place I want to see them.
Needless to say, at the end of the day, I can learn more moving forward due to the fact that there are people such as Harold Evans, still writing and editing today. We can all be a bit thankful for that.
What's your least favorite bit of excess verbiage? We've all got one! Or many. Let us know!
Ellen Scordato has 25 years' book publishing experience as an editor, copy editor, proofreader, and managing editor. She's now a partner in The Stonesong Press, a nonfiction book producer and agency. In addition to her work at Stonesong, Ellen has taught grammar, punctuation, and style at the New School for more than 12 years in the English Language Studies department and is currently teaching English as a Second Language at Cabrini Immigrant Services.
Permalink