Thread Options
Mark as New

Mark as Read

Bookmark

Subscribe

Email to a Friend

William Safire, Nixon speechwriter, conservative pundit, and author of the long-running On Language column at the New York Times magazine, died this past weekend at the age of 79. Just google "William Safire death" and you'll find that information and more.
Of course, what I remember is William Safire the wordsmith and self-appointed grammarian. As the Times obit noted, his Rules for Writers included "Remember to never split an infinitive. Take the bull by the hand and avoid mixing metaphors. Proofread carefully to see if you words out. Avoid clichés like the plague. And don't overuse exclamation marks!!"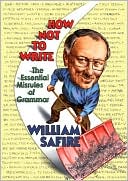 Back in the 1980s, I read On Language much more often than in later years. It seems to me that his older columns were more prescriptive, more concerned with pointing out the elements of grammar in popular writing that offended his finely tuned sensibilities. But later, as the 1990s wore on, as Language Log put it, "Despite his occasional prescriptivist predilections, [Safire] showed a willingness to heed the work of descriptive linguists."
That meant that Safire took a lot of interestin how the language was being used and how it was developing in the hands of those who delighted in English as much as he did. Safire had a very solid sense of his own authority, but he was no stuffy red-pencil copy editor, quick to note any deviation from style. Instead, as he once told NPR, his rhetoric sought to produce "word pictures."
"For example, when somebody 'leaves under a cloud.' That's been used so often that it lost its punch," Safire said. "But when you say someone 'leaves in a hail of dead cats,' all of a sudden, that'll wake somebody up."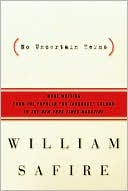 Ben Zimmer, who filled in for Safire on occasion as Safire's health began to fail, has a lovely remembrance at his Visual Thesaurus site.
And at the end, as a fellow Latinist, I must fall in with Mark Liberman, who noted on Language Log:
"We should remember that William Safire gave a 1994 collection of On Language columns the memorable title In Love with Norma Loquendi, referring to Horace's explanation that language changes "si volet usus / quem penes arbitrium est et ius et norma loquendi" ('if it be the will of custom, in the power of whose judgment is the law and the standard of language')."
Although our political stands were miles apart -- and I did not always agree with his conclusions in On Language -- I, along with all those fascinated by the standard of language and the will of custom, will miss Norma's champion, William Safire.
Permalink