Thread Options
Mark as New

Mark as Read

Bookmark

Subscribe

Email to a Friend

Chris Baty is irreverent and unpretentious, but he's serious about one thing: putting words on the page! Thanks to him, many novelists have gotten a jump start on their writing by sprinting through one month of NaNoWriMo aka National Novel Writing Month. Some have even gone on to be published. Below, my interview with the Method Man behind the phenom.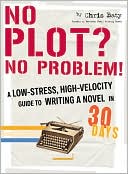 JD: Tell us about the creation of NaNoWriMo, and how your book, No Plot? No Problem? connects to the NaNo experience.
CB: Back in 1999, I had a dumb idea to make all of my friends write a novel in a month. I managed to cajole 20 people here in the Bay Area into participating in what I jokingly called "National Novel Writing Month." The goal: Writing a 50,000-word novel from scratch in 30 days. None of us had much fiction-writing experience, and we were pretty sure the books would be absolutely horrible.

The books, though, ended up surprising us. Somehow writing on a crazy deadline with zero expectations helped us turn off our nit-picky inner editors, enjoy the creative process, and actually write reasonably okay novels. Along with lowering our expectations, one of the keys to our success was that we actually met up after work and wrote in the same room. Somehow making novel-writing a social activity helped everyone get more writing done. It was weird!

Emboldened by that first year's successes, I sent out the invitation to more people the next year. I was stunned when 140 people signed on. The year after that, the event got some media attention and 5,000 people signed up, completely overwhelming the prehistoric website. It's continued to grow from there. In November 2009 we had 167,000 adult participants, and more than 35,000 kids and teens took part through NaNoWriMo's classroom-based Young Writers Program.

After I'd been organizing NaNoWriMo for five years, I sat down and wrote out all the advice, encouragement, and counterintuitive tips that I wish someone had given me when I first took part in NaNoWriMo in 1999. That became "No Plot? No Problem!" It's meant as a fun travel guide to a month in novel-land.

JD: When you were writing that first novel did you hear the voices of beloved (or hated!) authors in your head? What were they telling you?

CB: I did! At that point, I was working as a freelance music and travel writer, but I hadn't really tried to write fiction since 9th grade. Which made me nervous. I read Anne Lamott's Bird by Bird and really loved it, but instead of doing the smart thing and picking up another fiction-writing how-to, I just grabbed my favorite novel at the time (Nick Hornby's High Fidelity) and used it as a reference book while I was writing my first novel. At the time, I believed I was just using it as a guide for punctuating dialogue, etc, but I totally ended up cannibalizing most of the book's plot and tone. Nick Hornby, I owe you one.

JD: You are more than a one trick pony! What is the Office of Letters and Light all about? What other organizations are you frontin', man?

CB: Ha! By 2006, NaNoWriMo had grown far larger than I'd ever dreamed. Our Young Writers Program was also starting to take off, and I was really interested in launching a scriptwriting version of NaNoWriMo. Given all of those things, it was a natural next step to create an umbrella 501(c)(3) nonprofit that would continue to run NaNoWriMo and the Young Writers Program and debut new deadline-driven events as well. Thus, the Office of Letters and Light was born.

Our first task was launching http://www.scriptfrenzy.org where people could write a movie, play, graphic novel, or set of TV shows in April. Since 2007, Script Frenzy has grown to more than 20,000 participants each year, and it also has a classroom-based young writer's program, http://ywp.scriptfrenzy.org.

JD: What is your favorite distraction while writing?

CB: Lately I've been spending way too much time playing games on my iPod, including Angry Birds and Plants vs. Zombies. I may need to delete both of them soon, as I'm supposed to be finishing a Young Adult novel and instead I'm spending all my time flinging birds at green pigs and trying to stave off zombie attacks by burying potato bombs in my lawn.

JD: What books (or films, plays, etc) have you been obsessed with as of late?

CB: I just started reading my first Lorrie Moore novel (A Gate at the Stairs) and I'm floored by her descriptive abilities. I keep a little pack of 4 by 6 cards by bed so I can jot down any great sentences I come across while reading. I had to put the cards away for A Gate at the Stairs because I found myself wanting to write down every other sentence. I'm really excited to read the new David Mitchell novel, The Thousand Autumns of Jacob de Zoet. He has a similar alchemist's touch with words.

Movie-wise, I just saw The Kids Are All Right this past weekend and really liked it. I also liked Cyrus. And Toy Story 3 was great as well! Pixar is located just up the road from the Office of Letters and Light, and someday I'm hoping we can just quietly move our entire office onto their campus. I hear they have an amazing cafeteria and unlimited supplies of candy for staff. As soon as they let their guard down, we're totally moving in.

For more on Chris's brainchild, click here. And take the July NaNoWriMo challenge!
And for more on the craft of writing: http://www.bangthekeys.com
and pick up Bang the Keys
Permalink