New Message
Board Options
Collapse View

Expand View

Mark all Messages as New

Mark all Messages as Read

Float this Board to the Top

Bookmark

Invite a Friend

Status: Bookseller Picks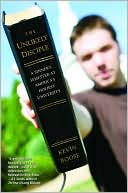 Every now and then, I hit on one of those books that I can't put down. I know I've found one of those books when I'm neglecting all the other forms of entertainment in my life--TV, Xbox, the Internet--just to read. This was the case with "The Unlikely Disciple."
I started reading this book with high expectations, and they were delivered on. Roose's style of writing is both accessible and entertaining at the same time. His depictions of his semester at Liberty University are vivid and will make you angry and make you laugh in the same paragraph. In case you're wondering, he treats Liberty very fairly--if you're expecting a brutal smackdown, you won't find it here. Most of the time he just lets Liberty speak for itself, the good and the bad, and I think in the end that might be what I like so much about this book.
Of all the books I've read in my 7 years at Barnes & Noble, this is definitely in my top 10%, and I will be recommending it to customers for a long time to come.
Great for: non-fiction readers, expose enthusiasts, and people with an open mind about religion.
Permalink

Status: Bookseller Picks
Would a loving, all powerful, God sentence human souls to infinite torment and suffering for something they did in a finite amount of time? What about a child who grew up and never had the chance to get to know this loving God? What about a person who is repulsed by those who claim the name of Jesus but, live a life closer to his teachings than some of his followers do?
Many people in the evangelical world find Rob Bell's style of asking more questions than giving answers unsettling. The idea that Bell might suggest something different than the modern "turn or burn" and "hellfire and brimstone" evangelism has caused quite a stir, including making Rob bell a trending twitter topic.
Weather you agree with Rob Bell or not it's is hard to deny that he has the power to reach an extremely large audience. In his latest book, Love Wins, he uses this ability to ask serious questions that deeply affect the faith of, well "Every Person Who Ever Lived."
The book is masterfully written to engage the reader with serious questions and help folks wrestle with real issues. It is not a new highly developed theological stance or a break from Bell's core convictions. However, it is a far different point of view on the bible and Christianity than the one painted by most evangelical Christians today.
With searing insight, the book puts heaven and hell under the microscope, and the message is decidedly hopeful. Yes ultimately Love Wins!
*This book has been endorsed by Eugene H. Peterson, Professor Emeritus of Spiritual Theology, Regent College, and author of The Message and Greg Boyd, senior pastor at Woodland Hills Church and author of The Myth of a Christian Nation*
*I received an advanced uncorrected proof of this book from Harper Collins Publishers and used it to write this review. The views expressed here are solely my own and not the views of Barnes and Noble, Harper Collins, or any of their subsidiaries.
Permalink