Available for your Nook Color HERE ($1.99)
Our game 180 has enjoyed much success on iPhone and we received many requests to release on Android. Rather than simply port the game, we created an all-new version with HD assets and more gameplay modes! Apparently we've done the right thing, as we've seen countless downloads and great reviews! With a recent feature on Amazon App Store and more to come, the party is just getting started. Keep an eye out for future updates for 180, and more releases from Headcase Games for your Nook Color!
Please note: we receive a few negative reviews "developers, stop making the same game over and over!" We understand that people are tired of seeing the same titles ripped-off repeatedly. Our game is wholly original, and it is built off of some very familiar mechanics to help ease the player into the experience. After a session or two, you will see how we have brought a very fun new formula to an existing genre. Try it and you will agree that this is "not the same old game you've played may times before!"
DESCRIPTION:
Easy for anyone to learn in a minute, but deep enough to challenge the most extreme players. Fans of classic games like Tetris Attack and Bust-a-Move will love the new "shoot and flip" mechanic!

180 is an insane flipping match-3 drop action puzzle game! Launch coins into three-in-a-rows to clear the vertically-descending board. Play alternate colors by flipping coins 180 degrees at any time. Create incredible combos and be rewarded with HUGE scores - just don't let the coins touch the red line at the bottom, or it's game over!

FEATURES:
- Multiple game modes and characters, with big updates in development now! Watch for Mutliplayer, Tablet Mode, Casual Mode
- High-rez HD graphics look great on your Nook!
- Multiple gameplay secrets, can you figure them out?
- Simple to grasp, with an engaging mechanic that encourages creative play
- Free Hint Guide coming soon - play like a pro!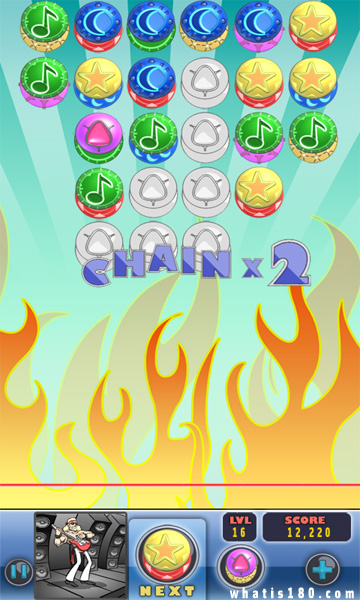 HEADCASE GAMES:
This is our 1st Android title! We are expats from the big studio dev houses who have worked on some of your favorite games (Guitar Hero, Neverwinter Nights, Tony Hawk's Pro Skater, Alpha Protocol). After starting in iOS development we are making a splash on Android with the first release in what will be an impressive lineup of games to come! Support us and we will bring you more of what you want: great, original games!