Inspired by Froide poll on bookmobiles and my fondness for cozy mysteries (and mysteries in general), I thought I would search to see if I could find any mystery series centered around bookmobiles/mobile libraries. Several of my findings have made it to my wish list. Actually, all of them have been put on my wish list! I now have a new favorite cozy mystery genre. It was long overdue. (yes, bad pun)
I look forward to reading these in the future.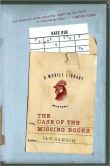 Currently $0.99
The Case of the Missing Books by Ian Sansom | 9780061983542 | NOOK Book (eBook) | Barnes & Noble
Israel Armstrong is a passionate soul, lured to Ireland by the promise of an exciting new career. Alas, the job that awaits him is not quite what he had in mind. Still, Israel is not one to dwell on disappointment, as he prepares to drive a mobile library around a small, damp Irish town. After all, the scenery is lovely, the people are charming—but where are the books? The rolling library's 15,000 volumes have mysteriously gone missing, and it's up to Israel to discover who would steal them . . . and why. And perhaps, after that, he will tackle other bizarre and perplexing local mysteries—like, where does one go to find a proper cappuccino and a decent newspaper?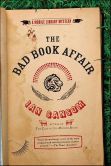 Currently $1.99
   The Bad Book Affair (Mobile Library Series #4) by Ian Sansom | 9780061966040 | NOOK Book (eBook) | Barnes & Noble
Overview
Israel Armstrong—the hapless duffle coat wearing, navel-gazing librarian who solves crimes and domestic problems whilst driving a mobile library around the north coast of Ireland—finds himself on the brink of thirty. But any celebration, planned or otherwise, must be put on hold when a troubled teenager—the daughter of a local politician—mysteriously vanishes. Israel suspects the girl's disappearance has something to do with his lending her American Pastoral from the library's special "Unshelved" category. Now he has to find the lost teen before he's run out of town—while he attempts to recover from his recent breakup with his girlfriend, Gloria, and tries to figure out where in Tumdrum a Jewish vegetarian might celebrate his thirtieth birthday.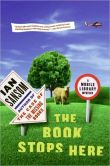 Currently $1.99
The Book Stops Here (Mobile Library Series #3) by Ian Sansom | 9780061873072 | NOOK Book (eBook) | Barnes & Noble
   Overview
Disgruntled, disheveled, fish-out-of-water mobile librarian Israel Armstrong is finally going home to London, rattling along with his irascible companion Ted Carson in their rust bucket book van en route to the Mobile Meet. The annual library convention gives Israel the opportunity to catch up with his family, eat paprika chicken and baklava, and drink good coffee. But they've barely found parking when the unimaginable occurs: their library-on-wheels is stolen!
Who on earth would want to take a thirty-year-old traveling disaster with the words "The Book Stops Here" painted across the back? Israel and Ted are determined to find out. But their search is leading them on a very twisty trail through the countryside in pursuit of a suspicious convoy of New Age travelers. And the hunt is raising numerous troubling questions—such as where exactly is Israel's high-flying girlfriend, Gloria? And is Ted really making a move on Israel's widowed mother?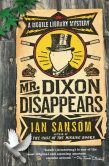 Currently $0.99
Mr. Dixon Disappears by Ian Sansom | 9780061983627 | NOOK Book (eBook) | Barnes & Noble
Overview
Mr. Dixon a member of the Ulster Association of Magicians, has gone missing—along with one hundred thousand pounds in cash. Israel Armstrong, bighearted and overly inquisitive, should stick to delivering library books to out-of-the-way readers and not get involved in the investigation. But of course, he can't help himself—which costs him his job and earns him a place of dishonor among the police's prime suspects. Can Israel clear his name and get his van back? Will the exhibition of old local photos he's been driving around County Antrim offer clues to Mr. D.'s whereabouts? And is a romance in the offing with winsome barmaid Rosie Hart?
All will be revealed!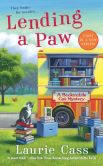 Lending a Paw (Bookmobile Cat Series #1) by Laurie Cass | 9781101630013 | NOOK Book (eBook) | Barnes & Noble
  Currently $7.99
Overview
With the help of her rescue cat, Eddie, librarian Minnie Hamilton is driving a bookmobile based in the resort town of Chilson, Michigan. But she'd better keep both hands on the wheel, because it's going to be a bumpy ride…
Eddie followed Minnie home one day, and now she can't seem to shake the furry little shadow. But in spite of her efforts to contain her new pal, the tabby sneaks out and trails her all the way to the bookmobile on its maiden voyage. Before she knows it, her slinky stowaway becomes her cat co-pilot!
Minnie and Eddie's first day visiting readers around the county seems to pass without trouble—until Eddie darts outside at the last stop and leads her to the body of a local man who's reached his final chapter.
  Initially, Minnie is ready to let the police handle this case, but Eddie seems to smell a rat. Together, they'll work to find the killer—because a good librarian always knows when justice is overdue.
FIRST IN A NEW SERIES!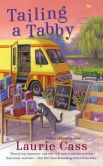 Currently $7.99
Tailing a Tabby (Bookmobile Cat Series #2) by Laurie Cass | 9781101638439 | NOOK Book (eBook) | Barnes & Noble
   Overview
In the bookmobile, librarian Minnie Hamilton and her rescue cat, Eddie, roll out great summer reads to folks all over the lake town of Chilson, Michigan. And when real-life drama turns deadly, Minnie makes sure justice is never overdue.
The bookmobile is making its usual rounds when Minnie and Eddie are flagged down by a woman in distress. The woman's husband, a famous artist, needs emergency medical care. After getting him into the bookmobile, Minnie races the man to the hospital in time…but his bad luck has only just begun. 
After disappearing from the hospital, the artist is discovered slumped over the body of a murdered woman. Minnie knows that her new friend didn't commit the crime, but the evidence paints an unflattering picture. Now this librarian and her furry friend have to put the investigation in high gear and catch the real killer before someone else checks out.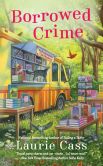 $7.99
Borrowed Crime (Bookmobile Cat Series #3) by Laurie Cass | 9780698176539 | NOOK Book (eBook) | Barnes & Noble
Overview
Librarian Minnie Hamilton spreads the joy of reading throughout Chilson, Michigan, with her bookmobile, but she doesn't ride alone. Her rescue cat, Eddie, and a group of volunteers are always on board to deliver cheer—until one of her helpers gets checked out for good...
When Minnie loses a grant that was supposed to keep the bookmobile running, she's worried her pet project could come to its final page. But she's determined to keep her patrons—and Eddie's fans—happy and well read. She just needs her boss, Stephen to see things her way, and make sure he doesn't see Eddie. The library director doesn't exactly know about the bookmobile's furry co-pilot.
But when a volunteer dies on the bookmobile's route, Minnie finds her traveling library in an even more precarious position. Although the death was originally ruled a hunting accident, a growing stack of clues is pointing towards murder. It's up to Minnie and Eddie to find the killer, and fast—before the best chapter of her life comes to a messy close…